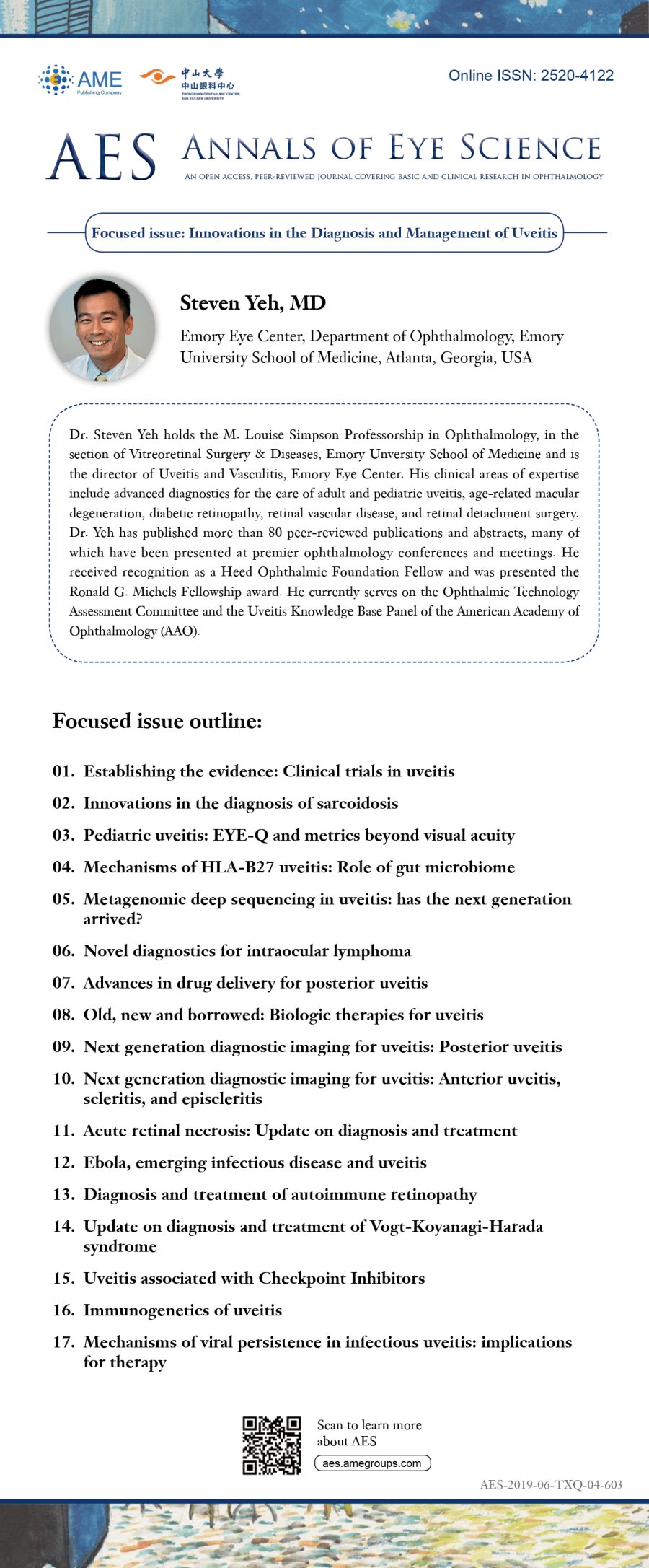 This focused issue on "Innovations in the Diagnosis and Management of Uveitis" is edited by Dr. Steven Yeh, from Emory Eye Center, Department of Ophthalmology, Emory University School of Medicine, Atlanta, Georgia, USA.
Dr. Steven Yeh holds the M. Louise Simpson Professorship in Ophthalmology, in the section of Vitreoretinal Surgery & Diseases, Emory Unversity School of Medicine and is the director of Uveitis and Vasculitis, Emory Eye Center. His clinical areas of expertise include advanced diagnostics for the care of adult and pediatric uveitis, age-related macular degeneration, diabetic retinopathy, retinal vascular disease, and retinal detachment surgery. Dr. Yeh has published more than 80 peer-reviewed publications and abstracts, many of which have been presented at premier ophthalmology conferences and meetings. He received recognition as a Heed Ophthalmic Foundation Fellow and was presented the Ronald G. Michels Fellowship award. He currently serves on the Ophthalmic Technology Assessment Committee and the Uveitis Knowledge Base Panel of the American Academy of Ophthalmology (AAO).
Proposed focused issue outline:
Establishing the evidence: Clinical trials in uveitis
Innovations in the diagnosis of sarcoidosis
Pediatric uveitis: EYE-Q and metrics beyond visual acuity
Mechanisms of HLA-B27 uveitis: Role of gut microbiome
Metagenomic deep sequencing in uveitis: has the next generation arrived?
Novel diagnostics for intraocular lymphoma
Advances in drug delivery for posterior uveitis
Old, new and borrowed: Biologic therapies for uveitis
Next generation diagnostic imaging for uveitis: Posterior uveitis
Next generation diagnostic imaging for uveitis: Anterior uveitis, scleritis, and episcleritis
Acute retinal necrosis: Update on diagnosis and treatment
Ebola, emerging infectious disease and uveitis
Diagnosis and treatment of autoimmune retinopathy
Update on diagnosis and treatment of Vogt-Koyanagi-Harada syndrome
Uveitis associated with Checkpoint Inhibitors
Immunogenetics of uveitis
Mechanisms of viral persistence in infectious uveitis: implications for therapy
Disclosure:
The series "Innovations in the Diagnosis and Management of Uveitis" was commissioned by the editorial office, Annals of Eye Science without any sponsorship or funding. Steven Yeh is serving as the unpaid Guest Editor for the series.