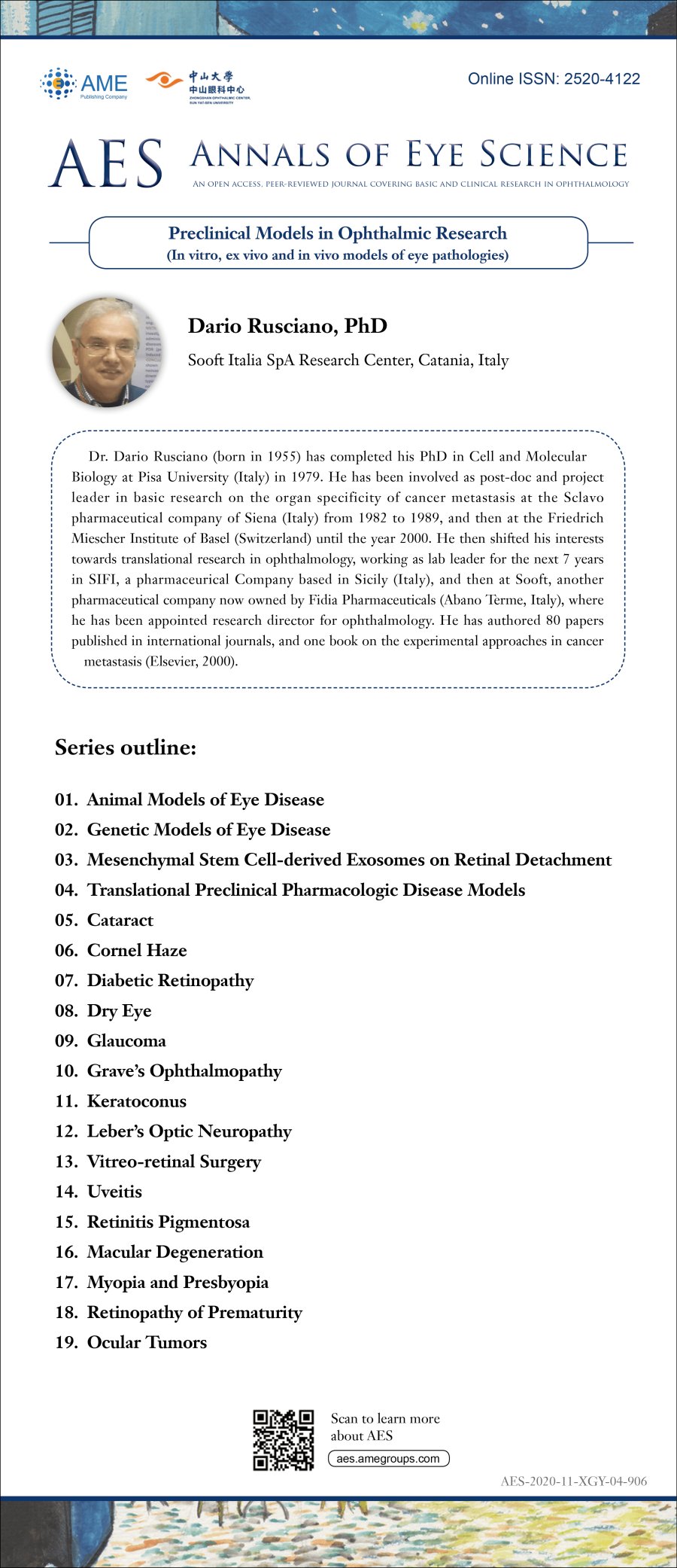 The Series on "Preclinical Models in Ophthalmic Research (In vitro, ex vivo and in vivo models of eye pathologies)" is edited by Dario Rusciano, Research Director, Sooft Italia SpA, Catania, Italy.
Dario Rusciano, PhD
Sooft Italia SpA Research Center, Catania, Italy
Dr. Dario Rusciano (born in 1955) has completed his PhD in Cell and Molecular Biology at Pisa University (Italy) in 1979. He has been involved as post-doc and project leader in basic research on the organ specificity of cancer metastasis at the Sclavo pharmaceutical company of Siena (Italy) from 1982 to 1989, and then at the Friedrich Miescher Institute of Basel (Switzerland) until the year 2000. He then shifted his interests towards translational research in ophthalmology, working as lab leader for the next 7 years in SIFI, a pharmaceurical Company based in Sicily (Italy), and then at Sooft, another pharmaceutical company now owned by Fidia Pharmaceuticals (Abano Terme, Italy), where he has been appointed research director for ophthalmology. He has authored 80 papers published in international journals, and one book on the experimental approaches in cancer metastasis (Elsevier, 2000).
The main purpose of this series:
This special series is to give a synthetic update of the different eye pathologies and illustrate the diverse model systems that are available to study the various aspects of the pathology, including the therapeutic response. In vitro, ex vivo and in vivo model systems will be described in their finest details, so to allow each interested operator to execute each one of them in order to exploit their potential to address the many aspects of the pathology and the suitability of drugs or treatments to contrast its progression, or even to establish a cure.
In the end, this special series should work as a practical handy manual showing most of the existing and validated models of eye pathologies, to improve the research abilities of those interested in advancing our knowledge of such pathologies and their treatment.
Series outline:
Animal Models of Eye Disease
Genetic Models of Eye Disease
Mesenchymal Stem Cell-derived Exosomes on Retinal Detachment
Translational Preclinical Pharmacologic Disease Models
Cataract
Cornel Haze
Diabetic Retinopathy
Dry Eye
Glaucoma
Grave's Ophthalmopathy
Keratoconus
Leber's Optic Neuropathy
Vitreo-retinal Surgery
Uveitis
Retinitis Pigmentosa
Macular Degeneration
Myopia and Presbyopia
Retinopathy of Prematurity
Ocular Tumors
Disclosure:
The series "Series on Preclinical Models in Ophthalmic Research" was commissioned by the editorial office, Annals of Eye Science without any sponsorship or funding. Dario Rusciano is serving as the unpaid Guest Editor for the series.